XXXI INTERNATIONAL FESTIVAL OF FINE ARTS COLOR ART 2022.
The festival is an annual event held since 1990. It is the continuation of the International Children's Festival of Visual Arts organized under the auspices of the Polish National Commission for UNESCO. The aim of the festival is to promote all kinds of visual art forms created by young artists. In addition, artworks presented during the festival remain in the collections of many institutions, are featured in the exhibitions both in Poland and abroad, and used for charitable purposes. Goleniów Cultural Centre would like to warmly invite all children and youth to enter the competition. Goleniów Cultural Centre will accept entries from private individuals, educational and cultural institutions, and schools. The winners and their caretakers will be invited to attend a 5-day art workshop taking place at the seaside as part of the Color Art Festival finale.
Theme : DREAMS COME TRUE
AGE GROUPS
Category: painting and drawing
Group I – 6 to 9 years of age
Group II – 10 to 13 years of age
Group III – 14 to 17 years of age
Category: graphic arts (only linocut and monotyping)
Group I – 6 to 9 years of age
Group II – 10 to 13 years of age
Group III – 14 to 17 years of age
SUBMITTING ENTRIES
Acceptable sizes: Painting – A3-A1,
Graphic Arts – A4-A2.
In the Graphic Arts category we will accept works made using linocut and monotyping techniques.
Original works should be sent to the address of the Goleniów Cultural Center by March 25, 2022 (the date of receipt by the GDK is decisive).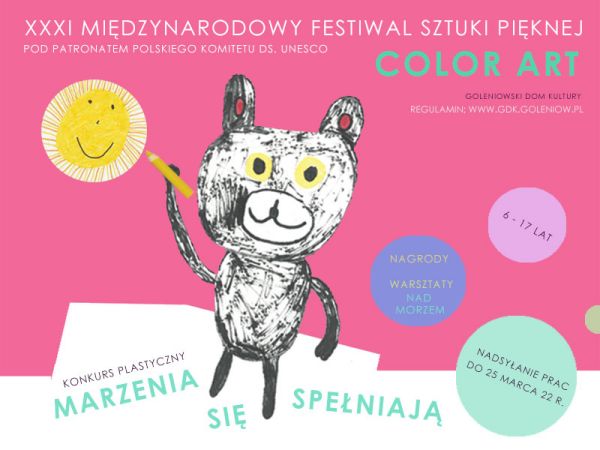 Address:
Goleniowski Dom Kultury
ul. Słowackiego 1
72-100 Goleniów POLAND
Please write on the envelope: COLOR ART
Works submitted to the competition must be unframed and non-lined.
ENTRY FORM : http://gdk.goleniow.pl/images/Entry_form_CA_2022.doc
Complete Rules and Regulations: http://gdk.goleniow.pl/images/Rules_CA22_ENG.pdf