Greetings from BORN TO WIN KIDS.
Rubik's Cube Competition | 25th & 26th Dec'2021| Live Via Zoom
8 Events | 100+ Trophies | 03 Winners in Each Age Group
*Top 3 Winners in each AGE Group*
Recognized with E Certificate & Trophy
_
~~**** All other Participants will receive E Certificate & participation Medal .***~~
Events ( 3×3, 2×2, Pyraminx, Skewb, 4*4*4, 5*5*5, Mirror)
Entry fee : Rs300/Cube
*Gpay : 96000 95150*
* Winners will be based on time taken to complete the cube.
*Scrambling formula will be provided at the time of contest.
*Participants have to be ready with their solved cube.
*Only one chance will be given to each Participant.
*Contest time and link will be informed /shared a day before contest.
* Under 6 age group
* Under 10 age group
* Under 15 age group
Participants will receive the parcel at their *_postal address in 25 Days_* after the event.
* COURIER CHARGE APPLICABLE.*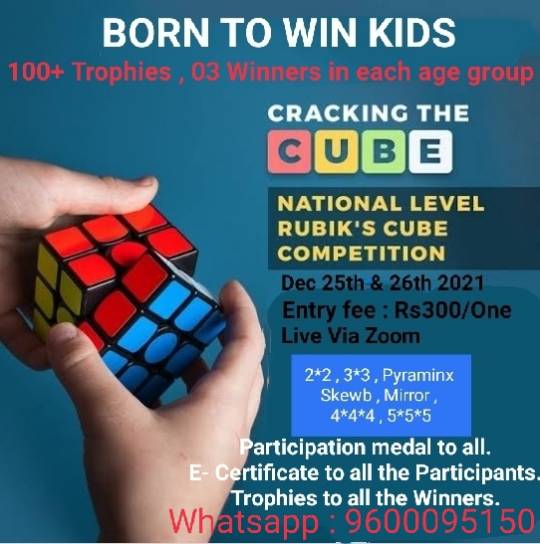 Rubik's Cube Competition | 25th & 26th Dec'2021