"Parampara's" happy to come up with this year festival season with a note of good health and with colourful vibes.
CAT 1: Kinder Garden (Colouring sheet will be sent online).
CAT 2: 5 to 8 yrs ( Temples /Chruch /mosque or Any Holy place).
CAT 3: 9 to 14 Yrs ( Any one avatar of goddess Durga).
CAT4:15 to 18 yrs(Any one scene from the epic"Mahabharata".)
Rules:
Any medium of colouring is welcomed ( pencil shading included)
Drawing should be done in A3 Sheet.
Registration fee 150/-
Send SMS or Watsapp your details (Name, Age, Contact Number) to receive the payment link and Upload Link.
Registration last date 28-10-2020.
Last day to send video on or before 30-10-2020.
For each category 2 prize (Trophy) will be given.
The result will be announced on 02-11-2020.
Details of winner and other info will be shared in facebook and instagram.
For any further clarification pls contact
Mrs. Yogeshwari –7305220400, 7358675108(whatsapp).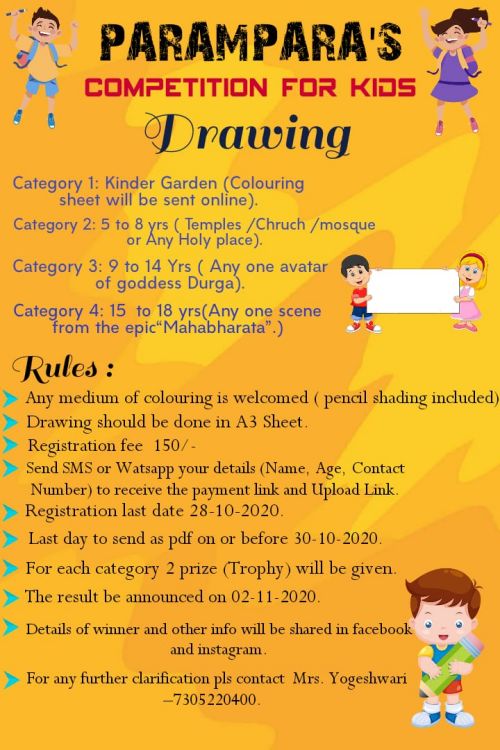 Drawing Competition 2020 By Parampara's