EVENT: RISING STAR OF INDIA 2019
DATE : MARCH 16 2019
VENUE: MANCHESTER AUDITORIUM, MANCHESTER INTERNATIONAL SCHOOL, COIMBATORE
TIME: Sharply 9.45 am onwards
VISITORS: no limitations
Hi Coimbatore!!!
Miracle Media P Ltd presents "RISING STAR OF INDIA 2019" kids fashion show at Coimbatore on MARCH 16 2019
WHAT IS THIS EVENT ALL ABOUT?
RISING STAR OF INDIA 2019 is just not about fashion and glamour. It moulds your child to become a better human being by polishing their personalities for social success. Our main aim is to enhance and empower the kids to develop strong social skills. We nurture the kids needs on a whole as we believe every kid is unique in their own ways.
Rising Star of India 2019 gives a platform to new talents. Our events helps the child to recognize and enhance their skills in the field of modeling, acting and personal grooming.
WHEN AND WHERE WILL THIS EVENT TAKE PLACE?
Date: MARCH 16 2019
MANCHESTER AUDITORIUM, MANCHESTER INTERNATIONAL SCHOOL, COIMBATORE
WHAT IS THE AGE LIMIT FOR KIDS TO PARTICIPATE?
Age criteria:
I. st category-1.5 yrs to 4 years.
II nd category -5 to 10 years.
III rd category -11 to 15 years.
WHAT IS THE THEME FOR KIDS TO PARTICIPATE?
Costume Theme: (single round only)
I st category -Free style
II nd category-Party wear
III rd category-Indian traditional
WHAT IS THE LAST DATE OF REGISTRATION?
MARCH 1 2019
WHAT ARE THE RULES TO PARTICIPATE?
rules
1. Vulgarity is strongly prohibited.
2. Kids will be judged on Costume, Walking stance, Attitude, Make up and Attire.
3. Decision of the judges will be final.
4. A green room will be given for the entrants.
5. Entrants should carry their own costumes.
6. No glitter, live flame, smoke generators or projectiles of any kind are not allowed in show.
7. It is a solo event.
8. Time for each entrants will be 1 minute.
9. First category is NOT a competition and entrants will not be judged. Participants will walk on the ramp to display their costume.
10. Parents can accompany their kids of first category on the ramp.
11. While no changes to these rules are foreseen, certain circumstances may require that the rules be changed. Any changes to the rules will be noted in bold red print on this page.
12. The practice session for the event will be announced by MARCH 1ST in our website.
13. OFFLINE Registered participants update your application Details through whatsapp no 8608700222
14. Last date of the registration will march 1 2019
15. The profile of the kid should be sent to below mentioned mail after the registration. Mail id: risingstarofindia2019@gmail.com
16.Management has the right to disqualify the participants, incase of their misbehavior or violation of rules
17.Judges decision will be the final
18.Management has the right to postpone the date / venue and timing in case of any natural calamities.
19.Application amount will not be refunded at any cost for any reasons whatsoever it may be
For online registrations only:
1. Participant should provide a valid mail Id (while filling Application)
2. A valid mail Id is must to receive the copy of your Application
3. A printed copy of the application is mandatory to participate in the contest.
4. Soft copy of the application is not valid for participation.
WHAT ARE THE AWARD FOR ALL CATEGORY PARTICIPANTS?
awards:
I. 1.5 to 4 years category -Lil' Rising Star of India 2019 award for every kids
II. 5 to 10 years category -A title winner (Girl and Boy ) "RISING STAR OF INDIA 2019" both will get cash award –Rs.5000/-
III. 11 to 15 years -A title winner (Girl and Boy ) "RISING STAR OF INDIA 2018" both will get cash award –Rs.5000/-
The Below Mentioned Awards
will be given for kids of All three
categories
1. SUNNIEST SMILE
2. BEST COSTUME KID
3. STYLISH KID
4. SPARKLING EYES
5. CHUBBY KID
6. BEST WALK
7. BEST MODEL
8. BEAUTIFUL HAIR
9. CUTEST KID
10. PHOTOGENIC KID

Every participant will get memento

WHAT IS THE COST OF REGISTRATION?
Registration fee
1st category- Rs.1000/-
Other categories-Rs.1500/-

WHO ALL CAN PARTICIPATE?
can participate Any kids from in India, in this contest.

DO YOU HAVE ANY CONTACT NUMBER TO HELP ME WITH THIS PROCESS?
Yes, please call on+91 8608700222, 860 8700333

I WANT TO PARTNER WITH/SPONSOR YOUR EVENT, WHO SHOULD I CONTACT?
Please contact J.K.LAVANYA -8056633881

for any sponsorship queries (mirclemediaevent@gmail.com)

HOW WILL RSI 2019 BENEFIT MY CHILD?
Your child gets an opportunity to explore his potentials and build confidence.

AFTER RSI 2019 WHAT ALL OPPORTUNITIES WILL BE AVAILABLE FOR MY CHILD?
If you're interested in exploring opportunities for your child in the modeling/acting industry, we would be able to put you in touch with our Talent Partner.

HOW DO I REGISTER MY KID FOR THIS EVENT?

for online registration:
www.miraclemediaevent.com/risingstar2019

For offline registration:

NATURALS BEAUTY SPA
All outlets in Coimbatore.

WHERE OR HOW WILL I GET UPDATES FOR THIS EVENT?
For more details
miracle media p ltd
43, nava india to sowripalayam road,
coimbatore-28.
risingstarofindia2018@gmail.com
For more details: 860 8700222, 8608700333
www.miraclemediaevent.com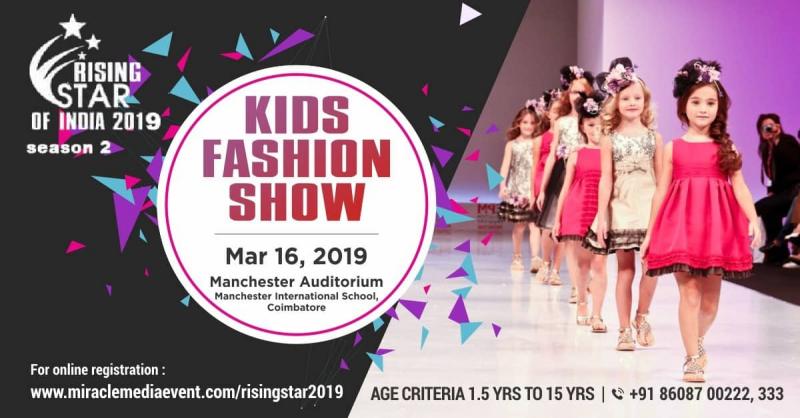 RISING STAR OF INDIA 2019 Kids Fashion Show in Coimbatore