Workshop for 10 – 18 years boys on 1 May 2018 by Ojas Eduland.
BRILLIANT BOYS : Raise your standards
A workshop for the "school boys" to transform their life.
At Ojas Eduland we are conducting 1 day workshop for boys.
Name of the workshop is "BRILLIANT BOYS : Raise your standards"
Date : 1 May 2018, Tuesday
For : 10 to 18 years boys
Registration fees: 1000/- per participant
What the boys' learn in this workshop will give them the power to "TRANFORM" their life completely.
In this 1 day workshop, boys will understand…
Taking Responsibility for one's life is the first step towards "Great Life"
What are the strength and areas of development
How the body and mind works
What is the importance of communication
Respect and Manners do matter
Appropriate use of Internet
How decisions one take shape their future
Let the positive transformation begin!
Event Venue:
Ojas Eduland
Z- 72(A), Door no – Z -117, Ground floor, Z block,
5th Avenue, Opp to DSK Benelli Showroom,Near Blue star Saravana bhavan hotel,
Anna Nagar west, Chennai – 40
To register WhatsApp or SMS : 9498425898
Contact:
9498425898
9986584433
7200003898
Email:  ojaseduland@gmail.com
Regards
Team – Ojas Eduland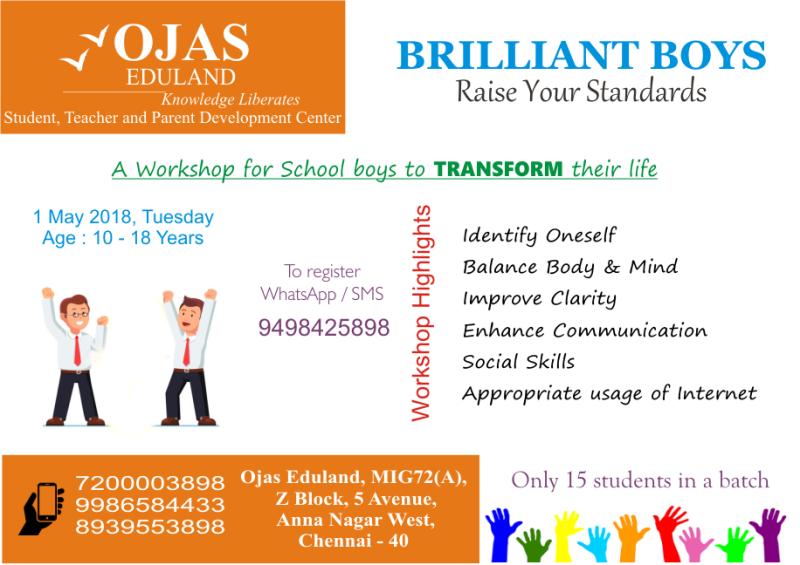 Workshop for 10 – 18 years boys on 1 May 2018