KODAI KAALA KALAI VIZHA – Mega Cultural Competition by Suha Academy of Fine Arts.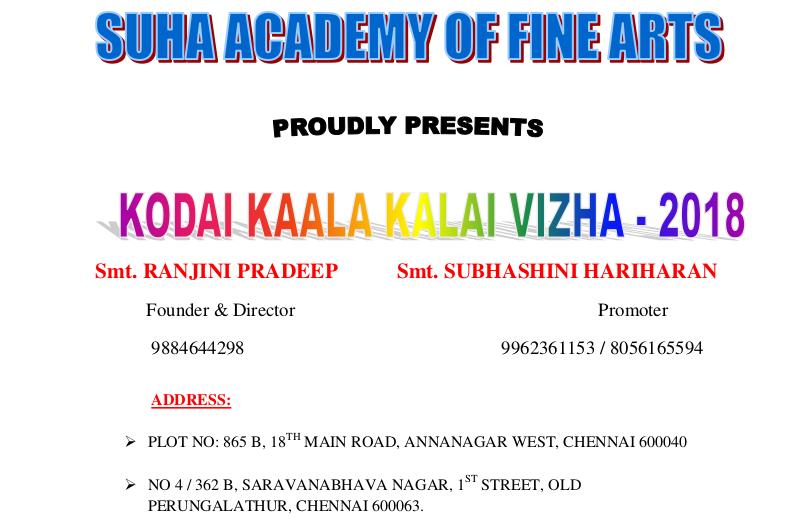 COURSES OFFERED :
BHARATHANATYAM DANCE
CARNATIC MUSIC
ABACUS
YOGA
DRAWING
HINDI
TUITION
VEDIC MATHS
COMPETITION DATE : June 24th , July 1st & 8th 2018
VENUE:SHRI KRISHNASWAMY MAT HR.SEC.SCHOOL, VAIGAI KUDIYIRUPPU,
ANNANAGAR WEST, CHENNAI
COMPETITION SCHEDULE
DATE & DAY : 24 – 06 – 2018 ( SUNDAY)
TIMING : 9.00 AM to 5.00 PM (LUNCH : 1 PM TO 2 PM)
ONLY FOR SCHOOL STUDENTS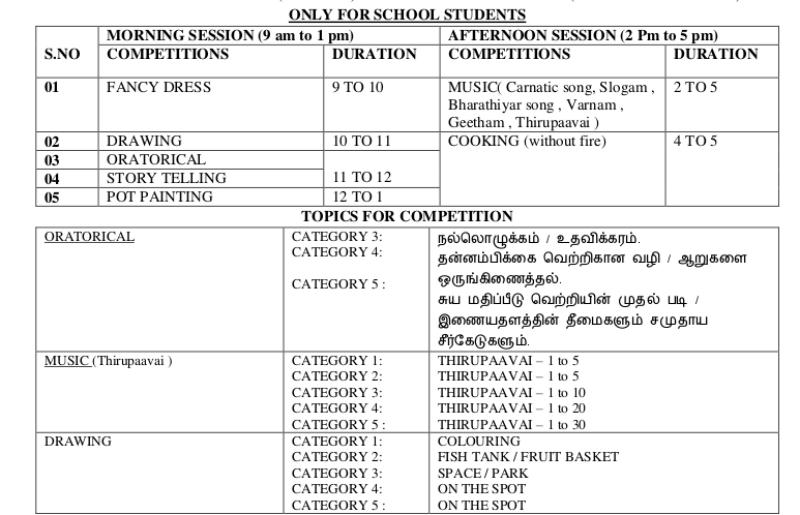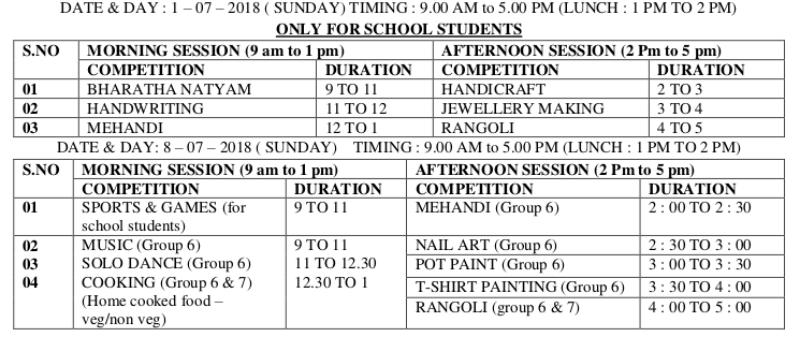 POINTS TO BE NOTED
Ph – 9962361153 / 8056165594 / 9884644298
E Mail id – suhaacademychennai@gmail.com
Facebook ID – https://www.facebook.com/suhaacademy.
Note :- Once registered for a competition, it will not be changed / altered/ canceled.
 Prize distribution will be held during the annual day only.
 Costumes should be worn appropriately for all competitions. Traditional attire to be
followed throughout the event.
 For Singing competition, BOYS – pyjama Kurtha, Dhoti, Pant and shirt. GIRLS –
Pavadaichattai, Pavadaithavani / Half saree (Jeans, Cargos, Bermuda and T-shirts
are not allowed)
 Properties (like dandiya sticks, flowers, mud pot, magic wand, hand fan etc) can be used
for storytelling, fancy dress, dance and other competitions but it should not be
hazardous.
 Please bring necessary materials for drawing competition (like writing pad, colors,
pencils etc). Chart will be provided by us to the participants.
 For Girls – Skirts, Shorts, Sleeveless dresses are not allowed.
 Participants will have to bring their lunch, water bottle and snacks for competition.
Our ANNUAL DAY will be held on 15th JULY 2018 at 5.00pm,
VENUE : SHRI KRISHNASWAMY WOMEN'S COLLEGE, AUDITORIUM, ANNA NAGAR, CHENNAI 40.
REPORTING TIME : 4.30 pm. Traditional attire should be followed by everyone for the annual day.
Special prizes for all categories:
1. TALENT AWARD: For those who are participating in most number of competitions.
2. SUHA ACADEMY OVER ALL TROPHY: For those who get most number of prizes.
FOR ONLINE REGISTRATION USE THE BELOW LINK
https://goo.gl/forms/hefOMiOeNyiWJ5BC2
KODAI KAALA KALAI VIZHA – Mega Cultural Competition