Good Habits & Manners- Etiquette workshop on 8 April. 2018, Sunday.
Batches
LKG – 5th std : 10 am to 1 pm
6th std – 12th std : 2.30 to 5.30 pm
It is a half day workshop for school students that will help them to understand the need of appropriate behaviours.
Topics Covered in the workshop:
Respecting People
Self-discipline
Mobile Phone Etiquette
Dining Etiquette
Body Language
Good Touch Vs Bad touch
Kindly enroll the children for the workshop & see them evolving in a better version.
Event Venue:
 Ojas Eduland
Z- 72(A), Door no – Z -117, Ground floor, Z block,
5th Avenue, Opp to DSK Benelli Showroom,
Near Blue star Saravana bhavan hotel, Anna Nagar west, Chennai – 40
Email:  ojaseduland@gmail.com
To register WhatsApp or SMS : 9498425898
Mobile: 
9498425898
9986584433
8939553898
Regards
Team – Ojas
[Note: Refreshments will be provided.]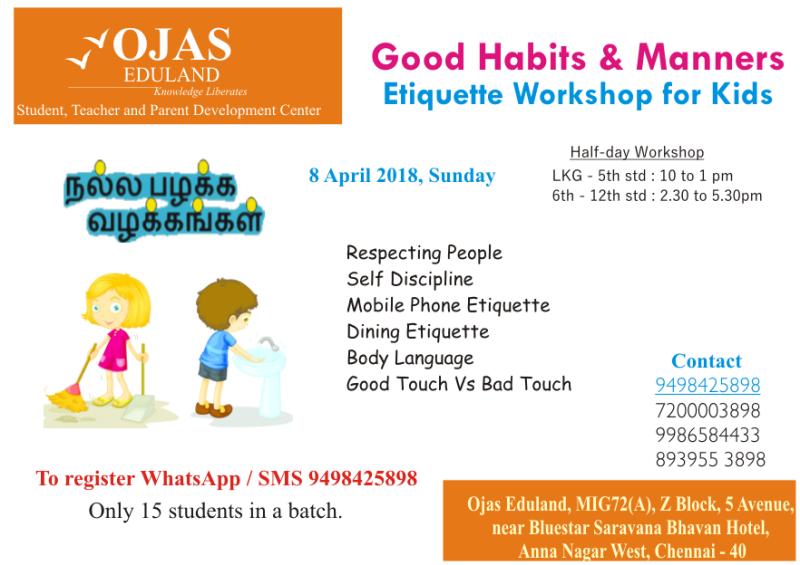 " Good Habits & Manners – Etiquette workshop for kids on April 8