A unique combination of language, communication skills and gymnastics
In this supportive, interactive and FUN environment of Children's Land, students will be able to grasp and practice their basic parts of speech and literary devices which would enable them to have a jumpstart in their next academic year and would also enable them to love books more.
At the end of the course, they should be able to:
Ø Understand the elements that make a story and write/tell a small story in their own words.
Ø Understand the rhyme scheme of what a limerick is and write limericks.
Ø Be able to identify onomatopoeia, alliteration and smile in a poem
Ø Understand their grammar (parts-of-speech) basics really well—noun, verb and adjectives.
All of this and a workshop on basic gymnastics skills.
Age group: 8-14 years
Dates: April 16 – April 20 (MON – FRI)
TIMINGS: 10:00 AM to 1:00 PM
You could come and watch your kids try and perform something for you on April 22 (SUN).
Call 80721 96323 for more details
Children's Land
286 TTK road, 3rd floor, Alwarpet
Chennai
Landmark: Above Andhra Bank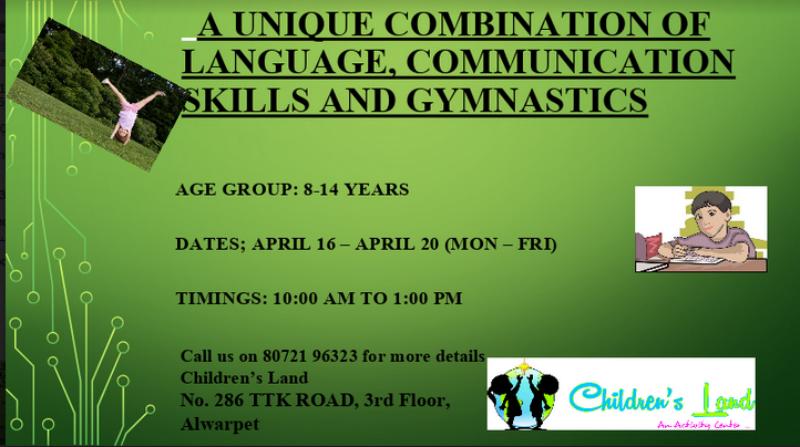 A unique combination of language, communication skills and gymnastics for 8 to 14 years