SAIMANTIKA'18, National Science Day celebration and competitions on Feb 24th and 25th, 2018.
Achieve academy was started in 2012 with the mission to bring out the hidden talents within every child and provide them with conducive atmosphere to express themselves.
Rules and Regulations for the competitions
DRAWING
Topic – Scientist and their inventions.
Duration – one hour.
Classes – std(1 to 5).
*chart paper(A4 size) will be provided.
*all kind of coloring will be allowed.
SCIENCE MODEL MAKING
Topic – any physics topic
Duration – 3 to 5 mins for model explanation.
Classes – std(4 to 9 )
*video or chart or model presentation are expected.
ELOCUTION
Topic – sir C.V.Raman,why we called as the father of Indian Science.
Duration – 3 mins.
Classes-std(4 to 9)
QUIZ
Classes – std(5 to9)
*First phase-online round.
* 2nd round – direct round
*For online quiz the webpage will be open on Feb 15 and 16.
*The link will be sent you to through the mail.
GLIDER
Materials will be provided.
REGISTRATION
*For registering your child, please sent your mail id
*For online payment details are given below.
*Registration fee for drawing,elocution,quiz and science model –Rs50
*Fee for glider Rs 100

Kindly follow the rules and regulations.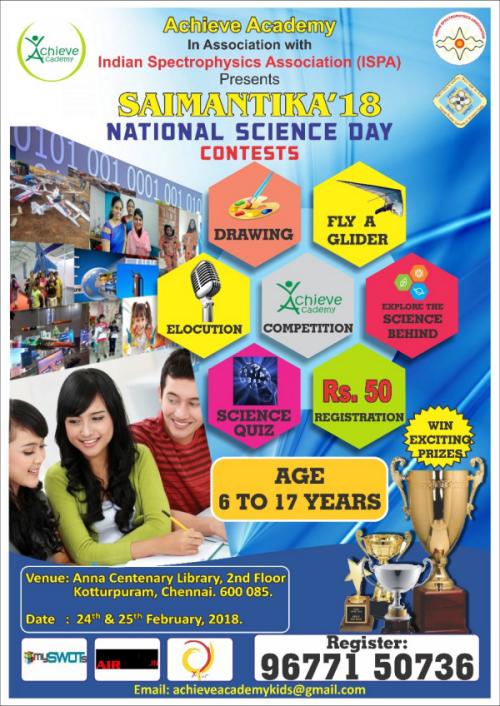 SAIMANTIKA'18, National Science Day Celebration & Competitions