SRM Nightingale Matriculation Hr Sec School, West Mambalam in association with Quiz Foundation of India organizes Inter School Quiz Competition SCINTILLA Q on 31.01.2017 at School Campus.
Students of Std VII, VIII & IX can participate in this competition.
REGISTRATION OPEN
For registration details:
Office: 044-23710609/24897998
Co ordinators: 9940453958/8939441684
Email: scintillasrm@gmail.com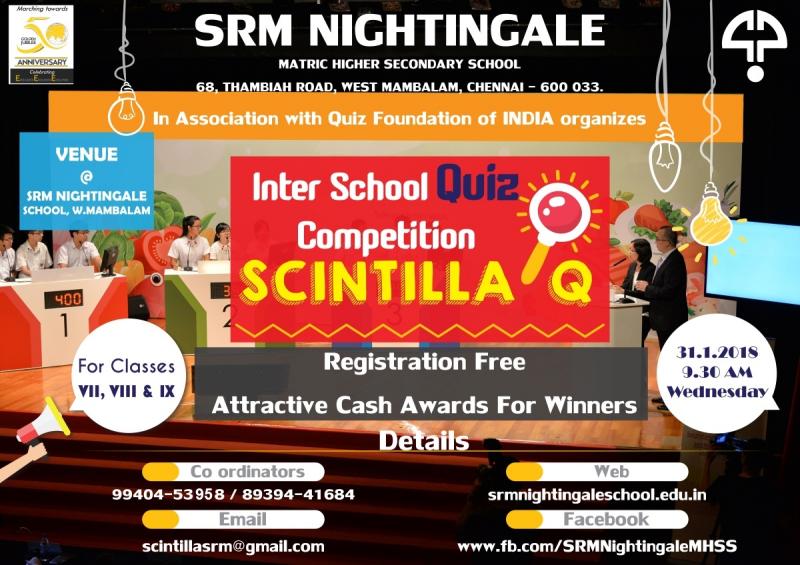 Rules & Regulations:
 Each team will consists of 2 students & maximum of 2 teams per school
 Quiz will be held in 2 rounds, Preliminary round will be in written followed by on stage pattern for final
 Top 6 schools will be selected for final round
 The decision of the Quiz Master will be final
 Participants are requested to report at the venue at least 30 minutes before the commencement of competition
 Identity Card must for participants
 Attractive cash prizes & Certificates will be given to the winners
 Participation certificates will be given to all participating students
 Please fill in the enclosed Registration form provided and sent it to the school on or before 20.01.2018 by Email/Post
 No entry fee for the participants
Venue: Seminar Hall, SRM Nightingale Mat Hr Sec School,
West Mambalam, Chennai-33
044-23710609/24897998
Date: 31.01.2018
Time: 9.30 a.m.
Registration Form: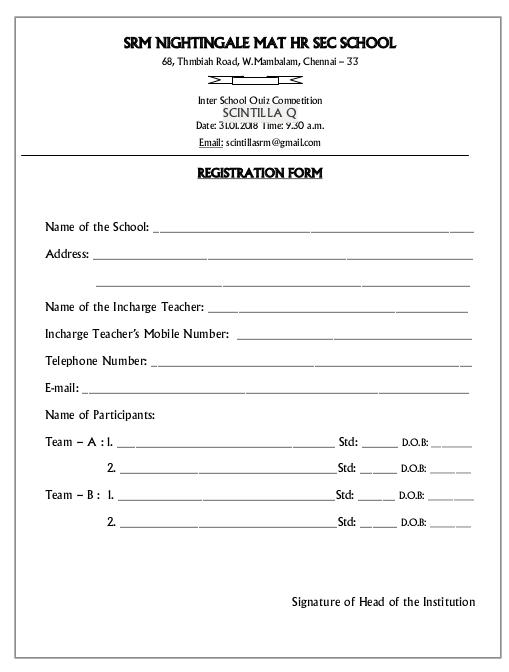 SRM Nightingale Inter School Quiz Competition – SCINTILLA Q on 31.01.2018