shOObh Arts Competition-2017, Theme – स्त्री | Women.
ENTRY SUBMISSION DATE EXTENDED TO 30 NOVEMBER 2017.
Eligibility Criteria:
(i)Participants must be between 5 – 17 years of age.
(ii)Participants must be bona fide students of the school they participate through.
(ii) The competition is open to all school children.
(iii) Participant could also be a foreign national.



Facebook : https://www.facebook.com/shoobharts/
Website: www.shoobharts.com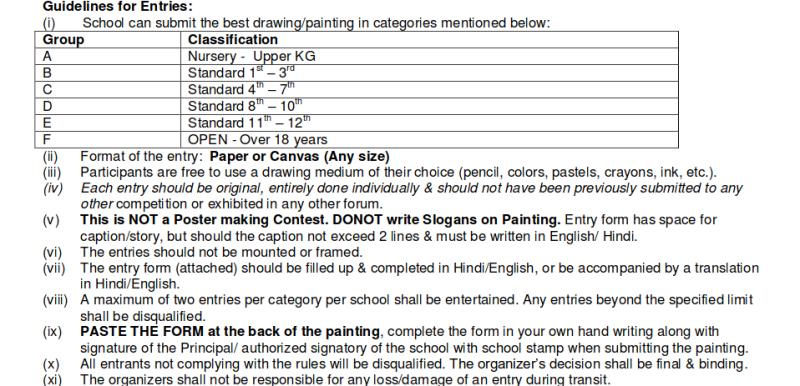 Entries should be sent to :
shOObh Arts Competition-2017
shOObh Group Welfare Society
10, CSC, Pocket-E, Mayur Vihar-II, Delhi-110091
For Details Contact : + 9 1- 9 8 7 3 3 2 2 8 2 2
Entry Form : http://www.shoobharts.com/upload/shOObh Arts Competition-2017-Theme-Women_Entry Form_School.pdf
shOObh Arts Competition-2017