Vedanta Academy, CBSE School, Vanagaram Chennai, is hosting "Roller Skating Championship" on Novermber12,2017. We cordially invite your school students to participate in different category.of Skating competitions from age groups – below 4to 14.
The Event will be held on 12/11/2017
The participants will be divided as per age groups are 0-4,4-6,6-8,8-10,10-12,12-14
The events are Quad-Rink II , Semiprofessional & Professional-Rink V
The communication and entries should be addressed to the Principal / Physical Director
Entry form should be sent to the Principal on or before 6/11/2017 by email to mail@thevedantaacademy.in and entry fee of Rs-120/- per student can be paid at the venue on the day of the event.
Bonafide certificate duly signed by the Head of the Institution should be produced along with the Entry form
Reporting time to the venue is 9am on 12/11/2017
The skater should report at least 20 minutes prior to the event
Certificates will be given for all participants and Medals for first three positions.
The organizers reserve the right to change the timing of the Event, if necessary
The decision of the organizing committee will be final in all matters.
Late entries will not be accepted
For Further clarification, kindly contact….
9787898552 (Dept of Physical Education)
7358395195(Admin officer)
Address: #90 Noombal Main Road, vanagaram, Chennai-600077
Email : mail@thevedantaacademy.in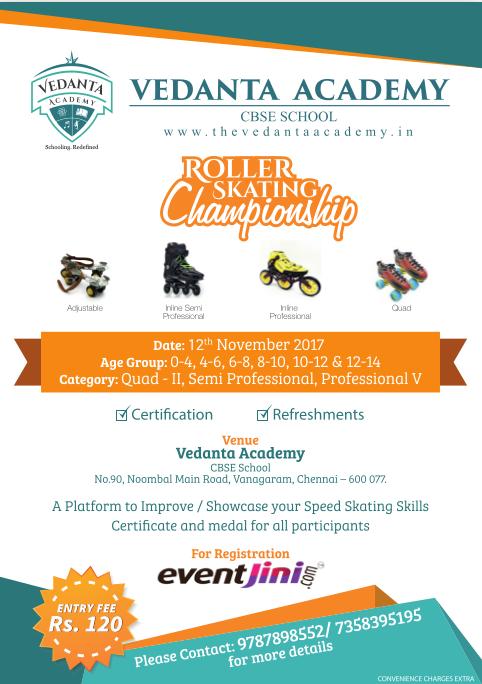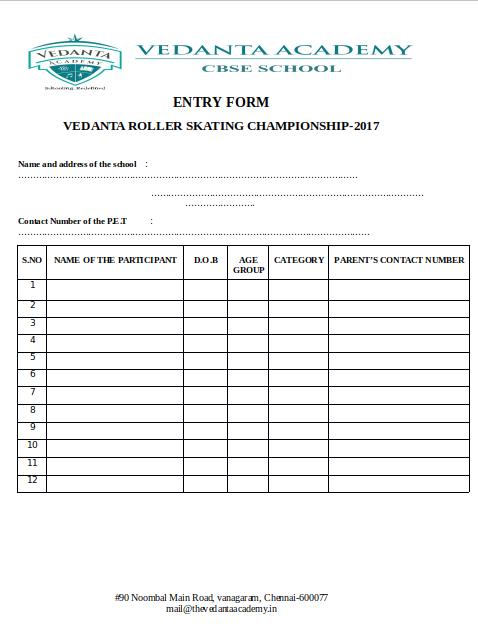 Roller Skating Championship on Novermber12,2017 at Vedanta Academy