We have the pleasure to invite all students to participate in the first ever Smart champs Abacus Academy's 4th National Level Abacus Competition Round 1 to be held on Nov 5th 2017 in Smart Champ's Abacus Academy, Ramapuram @ 10.00am to 7.00pm.
The Abacus competition is being held as an effort to build interest among students in Abacus and to exhibit their talents. Students in the following Categories are invited to participate.
Cat 1 – 5 to 6 yrs
Cat 2 – 7 to 9 yrs
Cat 3 – 10 to 12 yrs
Cat 4 – 13 to 14 yrs
Note: Participants are requested to bring their own stationary materials. Registration closes on 30th Oct 2017.Hurry only limited.
Registration must
Open competition
Age limit 5 to 14yrs
Those students clearing the national level round 1 are eligible to attend international competition in the month of Jan2018.
Contact : 9790470401
www.thepinkdolphins.in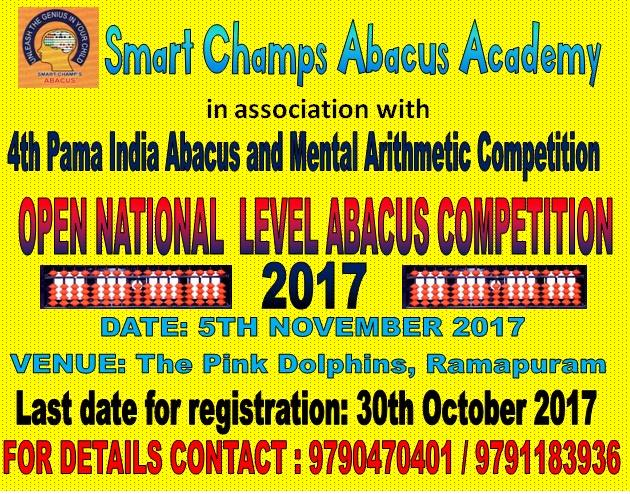 4th National Level Abacus Open Competition @Ramapuram