Nathella Vidhyodaya is hosting an Inter School Competition on 4th November 2017 (Saturday) between 8.30 a.m to 12.00 Noon. Nathella Vidhyodaya invite entries from your school.
To Remember :
1. Entry Fee per event:
Category I & II (Std I to V) Rs. 100
Category III & IV (Std VI to X) Rs.150.
2. ¼ size chart will be given by the School.
3. Necessary art materials should be carried by the participants only.
4. Students can use Water Colour, Poster colour and Oil Pastels for Drawing & Colouring.
5. Students should come in school uniform and with School ID card.
6. Students should carry their lunch and water bottle.
7. Every child will receive a participation certificate.
8. Results and prizes will be given away on the same day.
10 Participants should report half – an – hour in advance.
11 Bringing of pre-prepared materials will not be allowed. The participants will be disqualified.
12 Schools can depute as many students as they want for each Competition such as Wealth from Waste, Pencil Shading, Soap Carving, Face painting Drawing and Colouring, Collage, Clay Modelling.
13. Highest number of participation, will fetch a special prize for the school.
13. Registration closing date 25.10.2017.
14. Payment mode: Cash
Topics for Drawing & Colouring:
Category – 1 I & II My Garden
Category – 2 III, IV & V Any 3 cartoon characters
Category – 3 VI, VII & VIII Make in India
Category – 4 IX & X Save Rivers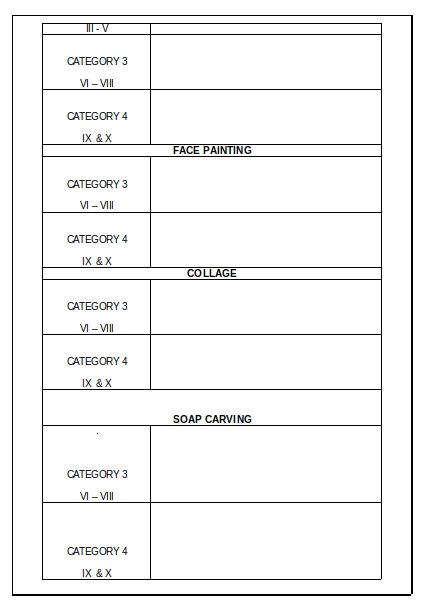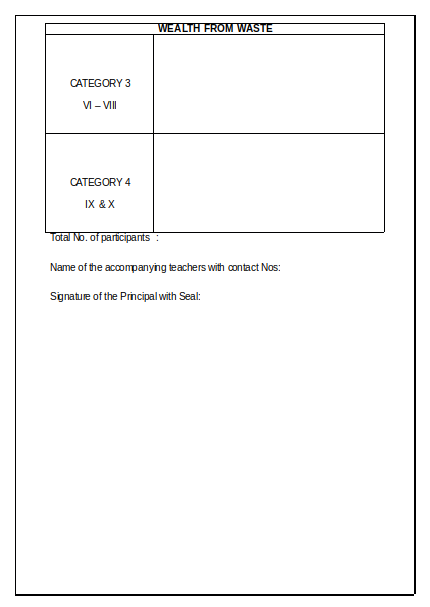 LITTLE PICASSO – 2017 INTER SCHOOL ART COMPETITION