22nd Anuvrat Nyas Painting Competition 2017 organised for school students by AKHIL BHARATIYA ANUVRAT NYAS, New Delhi.
Categories:
1. JUNIOR : Upto class VIII
2. SENIOR : Class IX to XII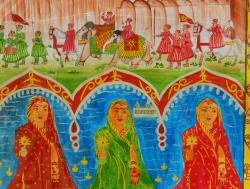 Participants of both the groups have to make paintings on the topic GLIMPSE OF GREAT INDIAN CULTURE.
Paintings can be made in any colour medium. The size of the drawing sheet should be 15″ x 20″ (Junior) and 20″ x 30″ (Senior).
Student's name, class and complete address of the school must be written.
Paintings can be made at home/school and submitted at the following centre latest 25th Sept, 2017
through school.
Contact Details: AKHIL BHARATIYA ANUVRAT NYAS
ANUVRAT BHAWAN, 210, DEENDAYAL UPADHYAYA MARG, NEW DELHI-110002
PH. : 23212123, 23236728
More Details of this singing competition available here : http://www.anuvratnyas.org/Event/painting.pdf
22nd Anuvrat Nyas Painting Competition 2017