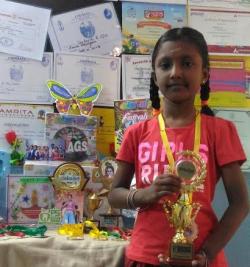 "My daughter R. Jay Harni studying IInd standard in Amrita vidyalayam, Nespakkam, Chennai. She is very much interested in Drawing and Music and Gita Chanting.
At the age of 2.5 years,she started getting prize for drawing and sloka chanting.
She achieved following:
1. First class with distinction in Vocal Music grade exam conducted by Annamalai University
2. 3rd Runner up for National drawing competition in Kolor Camp
3. Every year she got prize in Bhagavad gita Chanting, At LKG – she got Branze, UKG – II with silver medal. This year she received Ist Prize in Gita chanting with gold Medal and got Selected for state Level.
4. At the age of 3 years she got Ist prize in colouring competition conducted in Sanskruthi Kala Kendram.
5. Consolation Prize in Sloka recitation in Aaradhana Academy.
6. Participated in Axis Bank – financial Literacy Art Exhibition.
7. She got more and more prizes in weekly children magazine (magic pot) best creative entries for colouring.
8. She participated many stage performance for Gita Chanting and Bajans.
9. She also interested to do art work.
We are proud of our kid. She is very active and enjoying doing art work and singing. "
—– From the Proud Parents of R. Jay Harni – Ms.R.Malarvizhi and Mr. R. Ravichandran
Kidscontests.in Congratulate Jay Harni for her continuing success in the fields of art and music. Keep achieving more and more dear!!
Let's have a look at her achievements :
R. Jay Harni – Little Talent from Amrita Vidyalayam, Nesapakkam