VIBHA CULTURALS -2016 at Nathella Vidhyodaya Ambattur on November 13, 2016.
This is "THE VIBHA GROUP" happy to invite to you the"VIBHA CULTURALS"
(National Level Cultural Competition)
Organised by:
VISHNU BHARATH YOGA KALAI KOODAM
(A Charitable Trust)Co-organised by: TAMILNADU CULTURAL & SPORTS WELFARE ASSOCIATION
VIBHA is providing a Big Stage for your Children to Express their Inner and Unique Talents. Help them to participate in as many events as possible. Give your child the proud of participation and not Winning. Let them FLY.
All Competitions conducted one day one place for your convenience.
Age (M&F): Below 4, 5-6, 7-9, 10-13, 14-17, Above 18 for all events.
CATEGORIES:
ABACUS
DRAWING (Common)
PHOTOGRAPHY (Common)
Hand Writing
Essay Writing
Oratory
Personal Talent
|Thirukkural
Rhymes
Story Telling
Sloka Telling
FANCY DRESS (Common)
MUSICAL INSTRUMENTAL(Common)
SINGING (Classical | Western | Folk)
(Solo/Group)
YOGA (Common | Forward | Backward |
Twisting | Balancing | Standing)
DANCE – (Classical | Western | Folk
(Solo Entry Closed
/Group Entry Still open)
All participants can donate for trust development
* One Event @ 300/- |
VENUE : NATHELLA VIDHYODAYA
Ambattur Chennai 53 (Near- Ambattur Railway Station)
Date & Time: 13-11-2016 Sunday, / 7.00 am to 7.00 pm
LAST DATE FOR REGISTRATION & PAYMENT IS ON Before 10th NOVEMBER 2016
For more details: CONTACTS
99622 72688 | 9940098980
99623 72688 | 9962898980
E-mail: vibhacompetition@gmail / yahoo.com | www.vibhayoga.org | : The Vibha Club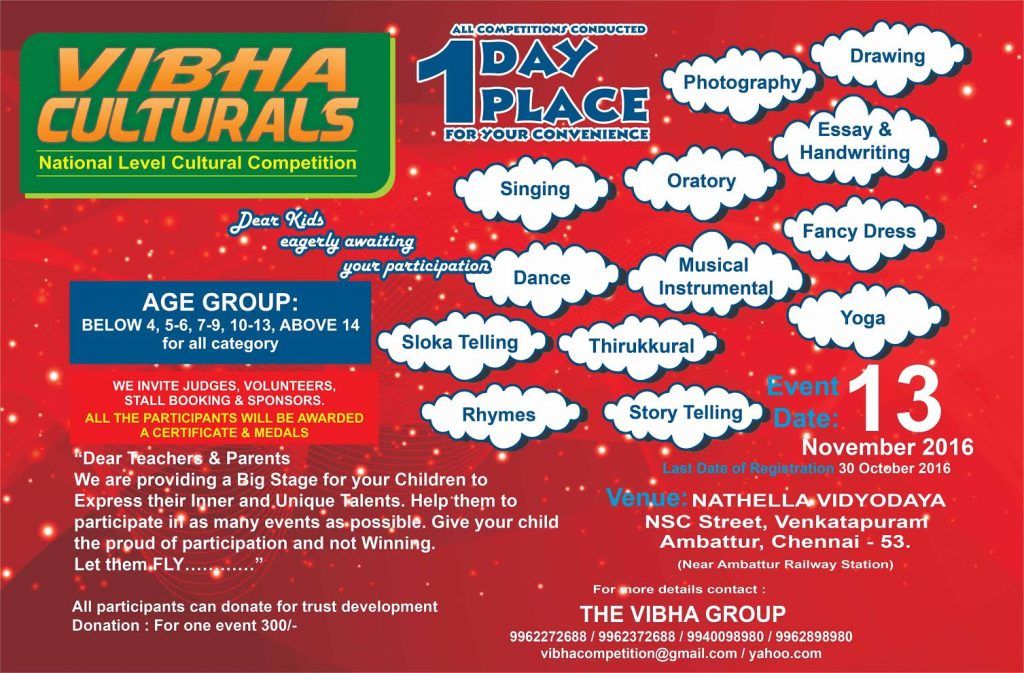 We invite Judges, Volunteers, Stall Booking & Sponsors.
All the participants will be awarded a Certificate & Medals
COMPETITION @ YOUR DOOR STEP
Minimum 10 participants should take part in the competition.
Assemble them in the nearest place. | Results will be announced at the date of event.
Registration Procedure
1. Participants are requested to send their mail Id thro net or SMS
2. Competition details will be sent to their mail
3. Participants after deciding about the events should make payment as per the donation details to our bank accounts mentioned in the competition details
4. Payment details, copy of the Challan should be sent to our mail along with the following participant details.
5. Participant Details
Name of the participant
Age
Parents Name
School Name / Standard
Contact No.
Participating Events
Payment made
6. Organizing committee will send your registration no. to your mail ID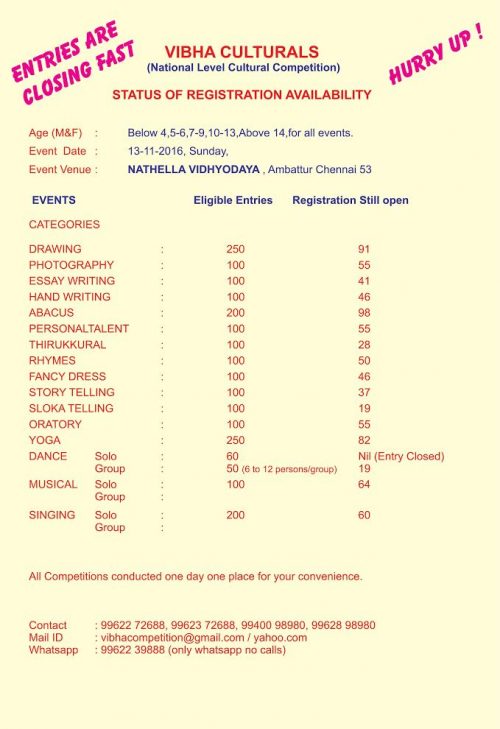 YOU WANT JOIN VIBHA SOCIAL CLUB
* Application Form – FREE
* lesser donor pass for all the events conducted throughout the year.
* Compliment-Yoga Book
* Concession at our Yoga Class at the Centre
* Special privilege like ID cards
* Information on Vibha events.
* First option on Vibha events.
* Conditions apply
*Pickup & drop facility available at extra cost along with registration.
THE VIBHA GROUP
(A Unit of V B Y K K)
2/3, Visalatchi Street,
Bala Vinayagar Nagar,
Arumbakkam, Ch-106.
9962272688 / 9940098980
VIBHA CULTURALS -2016 at Nathella Vidhyodaya Ambattur on November 13