Velammal Bodhi Campus organizing QUESTaCON* 2016 – A Math Mega Event.
ON July 30, 2016.
at 9.00 a.m. in Velammal Bodhi Campus,
Kolapakkam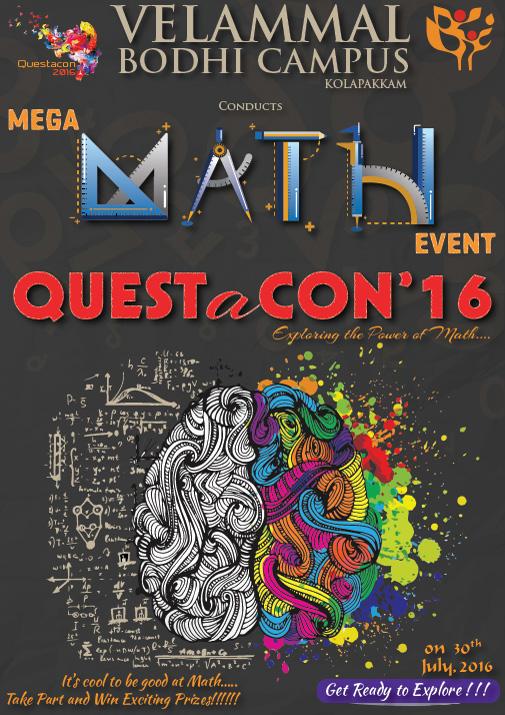 Entry is free.
By entering this challenge, you agree to these Official rules.
Please fill in the entry form provided and send it to the school once on or before
20.7.16.
Class wise competitions will be based on previous class syllabus.
Each participant is expected to come in their school uniform with identity card / bonafide certificate signed by the Head of the Institution.
Individual participants must be accompanied by their parent with School ID card / bonafide certificate.
Participants are requested to report at the venue at least 30 minutes before the commencement of the events.
Participants are not allowed to use calculators, mobile or any other electronic gadgets.
Participants should be accompanied by the school staff / parents.
Participants should bring necessary stationery for preliminary written test.
Time constraint should be strictly followed.
Participation certificates will be given to all the participating students.
The decision of the Judges is final and will not be subjected to any change.
Each event will have 3 prizes and a consolation prize.
The School that wins in most of the events will be awarded with 'Srinivasa Ramanujan Rolling Trophy'.
All the Details of the Contest, Rounds are available in the BROCHURE.
Results will be declared on 30th July 2016 at 7:00 p.m. in www.velammalbodhicampus.com
For registration & further queries contact
Co-ordinators:
Mr. A. ANTONY PRAVEEN
Mobile : 7845951520
Mr. T. KARTHICK
Mobile: 9840606374
Velammal Bodhi Campus QUESTaCON* 2016 – A Math Mega Event