Suha Academy of Fine Arts is planning to conduct an open to all competition in chennai on August 14th and August 21st, 2016 Sundays at Krishnaswamy school.
Categories :
Group 1 – Pre K G, L K G, U K G
Group 2 – I , II, III – Standard
Group 3 – IV, V, VI – standard
Group 4 – VII, VIII , IX, X – standard
Group 5 – Ladies
COMPETITIONS FOR GROUP 1 and 2: Bhakthi Padal, Drawing, Slogam / Thirupaavai, Story telling, Fancy dress
COMPETITION FOR GROUP 5 (Ladies): Kolam
COMPETITIONS FOR GROUP 2, 3 and 4: Bhakthi Padal, Thirupaavai, Naatupura Padal, Bharathiyar Padal, Slogam, Varnam, Geetham, Bharatha Natyam Dance, Naatupura Nadanam, Vanna Kolam, Malar Kuvalai, Drawing, Handwriting, Oratorical, . Mehandi, Handi craft / Kaiviani Porul
SUHA ACADEMY OF FINE ARTS
PLOT NO 865 – B, 18 TH MAIN ROAD, ANNA NAGAR WEST, CHENNAI 600 040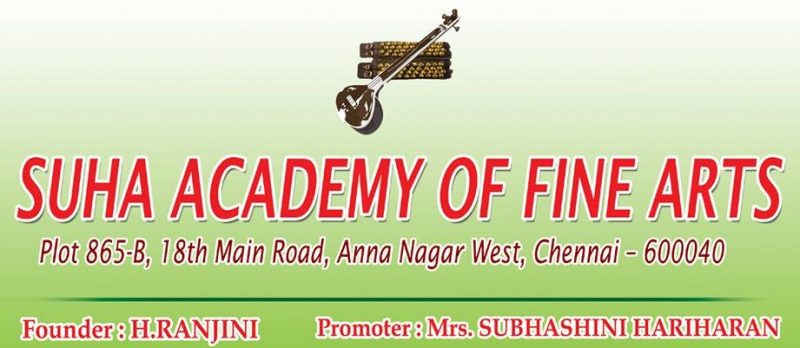 Ph – 9962361153 / 8056165594
E Mail id – subharaju1986@gmail.com
Facebook ID – https://www.facebook.com/suhaacademy/
Note : Once registered for a competition, it will not be changed / altered/ cancelled.
 Prize distribution will be held during the annual day only.
 Costumes should be worn appropriate for Dance, Fancy dress and story telling
 For Singing competition, girls should wear Pavadai chattai / Pavadai thavani and boys should wear Paijama Kurtha / Pant shirt.
 Properties (like dandiya sticks, flowers, mud pot, magic wand, hand fan etc) can be used for story telling, fancy dress and dance competitions but it should not be hazardous.
 Please bring necessary materials for drawing competition (like writing pad, colors,pencils etc). Chart will be provided by us to the participants.
 For Girls – Skirts, Shorts, Sleeveless dresses are not allowed.
 Participants will have to bring their lunch, water bottle and snacks during competition.
ANNUAL DAY will be held on 29th September 2016 at 5.30pm,
VENUE: KRISHNA SWAMY SCHOOL, VAIGAI KUDIYIRUPPU,
ANNANAGAR WEST. CHENNAI.
REPORTING TIME : 5.00 pm. and Traditional attire should be followed on that day by all.
Boys – paijama Kurtha, Dhoti, Pant and shirt
Girls – Pavadai chattai, pavadai thavani
Ladies – only with sarees
Gents – paijama kurtha, Dhoti , Pant/ shirt.
(Jeans, Cargos, Barmudas and T-shirts are not allowed)
Special Prizes will be given in each category only for :-
1. Those who are participating in most Number of competitions – SPECIAL PRIZE.
2. Those who get most number of prices – MULTI TALENT AWARD
SUHA ACADEMY ALSO OFFERS Music vocal / Slokas, Vedic Maths, Day Care Center, Hindi Class, Tuition, Abacus
SCHEDULE FOR THE COMPETITION – Aug 14th and 21st, 2016
VENUE: KRISHNA SWAMY SCHOOL, VAIGAI KUDIYIRUPPU, ANNANAGAR WEST. CHENNAI
REPORTING TIME : 15 minutes before the competition time
SUNDAY 14th AUGUST 2016

TIMING
COMPETITION
9 am – 10 am
Fancy Dress – Max 3 mins for each participant
10 am – 11 am
Oratorical – Max 4 mins for each participant
11 am - 12 pm
Story telling - Max 4 mins for each participant
12 pm – 1 pm
Drawing
1 pm – 2 pm
Lunch break
2 pm – 5 pm
Music ( for all category ) – Max 3 mins for each
participant
SUNDAY 21st AUGUST 2016

| TIMING | COMPETITION |
| --- | --- |
| 9 am – 12 pm | Dance – Max 4 mins for each participant |
| 12 pm – 1 pm | Handicraft |
| 1 pm – 2 pm | Lunch break |
| 2 pm - 2.30 pm | Hand writing |
| 2.30 pm – 3.15 pm | Mehandi |
| 3.15pm – 4 pm | Flower vase making |
| 4 pm – 5 pm | Kolam |
NOTE : Completed forms to be sent to the mail id : ranju.hari22@gmail.com
Suha Academy of Fine Arts Competitions on August 14, 21 at Anna Nagar