Brainekids an innovative preschool in Mogappair East since 2010 is entering into its seventh year. Admission is open for Playgroup (1.6 yrs to 2.6 yrs) , Pre.K.G (2.6 yrs to 3.6 yrs) , Junior K.G(3.6 yrs to 4.6 yrs) and Senior K.G ( 4.6 yrs to 5.6yrs).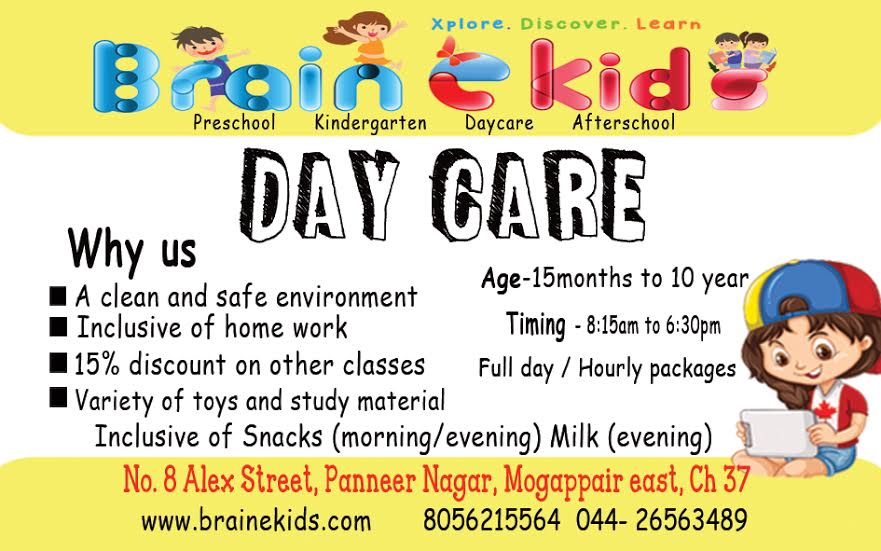 Exclusive daycare for 1.3 yrs to 3.6 yrs can also be availed as full day or half day. Our day care program combines our preschool and after school programs for every child, along with the routine-based feed and nap time schedules. Our preschool is a theme and activity based innovative school where we teach the way child learns. It is filled with interesting and fun filled activities. What follows is a vibrant, fun filled day for the child, with enough rest to charge them up. Children are given wholesome nutritious snacks daily morning and evening designed by our nutritionists. Milk will be provided in evening.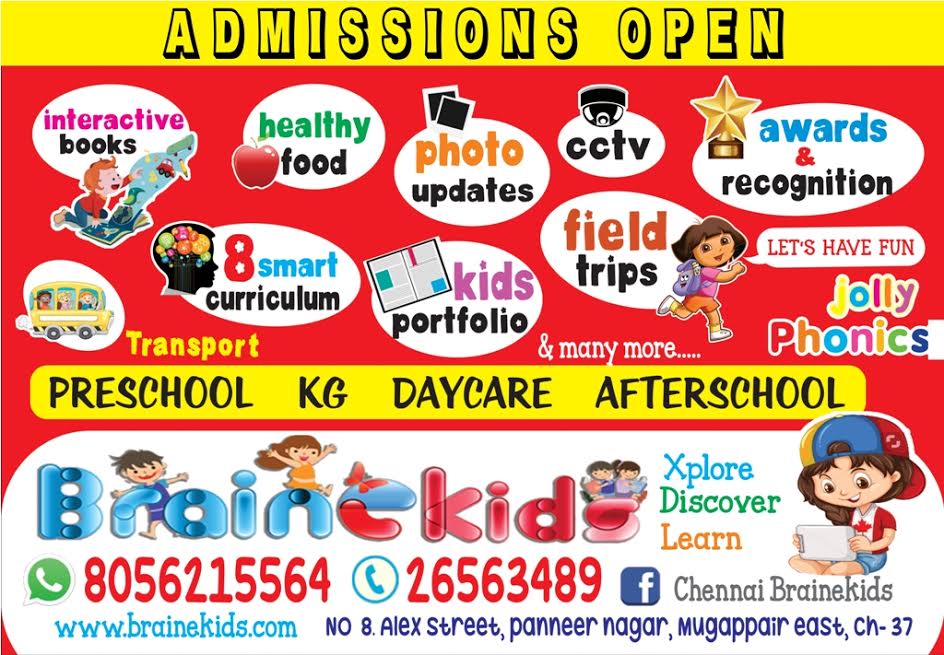 Full day (8.15am to 6.30 pm) / After school (12.30 pm to 6.30 pm) / Hourly daycare options are available. Clean and Safe environment surrounded with natural ambience in 4000 sqft space with facilities like Library , Kids Gymnasium , Indoor games , Outdoor Games , Creative and child friendly toys etc., form a part of Brainekids .
After School activities like Vocal (3yrs+) , Drawing (3yrs+) , Bharatham (4yrs+) , Keyboard (5yrs+) , Guitar (5yrs+) , Phonics(4yrs+) , Handwriting(4yrs+) can be availed. Weekend workshops like Robotics , Kids Theatre are also conducted.


For more details on Admission and exciting Offers Ring 044 26563489 / 8056215564 .
Visit – Brainekids 8, Alex Street , Panneer Nagar , Mogappair East , Chennai 37.
Landmark – Behind Connexions.
Website – www.brainekids.com
Daycare @ Brainekids, Mogappair