THE CBSE – TERI GREEN OLYMPIAD – 2016 by TERI (The Energy and Resources Institute) for students of Classes 4 to 10, is a written examination on environment.
The Energy and Resources Institute (TERI) has been conducting the GREEN Olympiad project in India and abroad for students and addresses the need for networking among schools. TERI's effort aligns well with the current school curriculum of CBSE.
Participation in the GREEN Olympiad is an excellent opportunity for students to test their Environmental Quotient and enhance their appreciation of their environment.
Students of classes IV to X can participate as per the following levels:
Level 1(for students from classes IV and V)
Level 2(for students from classes VI, VII and VIII)
Level 3(for students from classes IX and X)
Medium : English or Hindi
Theme: Our Environment
Schedule: 30 August,2016 AND 22 November, 2016
Duration:1 Hour (10:00 am to 11:00 am)
Registration fee:Rs.75/- per student,payable through school. Individual registrations from students are invalid.
Duly filled registration forms, along with the bank draft are to be sent so as to reach TERI, on or before 26 July,
2016 to:
The Associate Director
Environmental Education and Awareness Area,
The Energy and Resources Institute (TERI)
Darbari Seth Block, India Habitat Centre Complex
Lodhi Road, New Delhi 110 003
(Do not send Registration Forms and Bank Drafts to CBSE)
Contact Details:
Ph: 011-24682100 or 41504900
Fax : 011-246882144/24682145
or write to:Email: go@teri.res.in
GREEN OLYMPIAD CIRCULAR
WEBSITE FOR GREEN OLYMPIAD DETAILS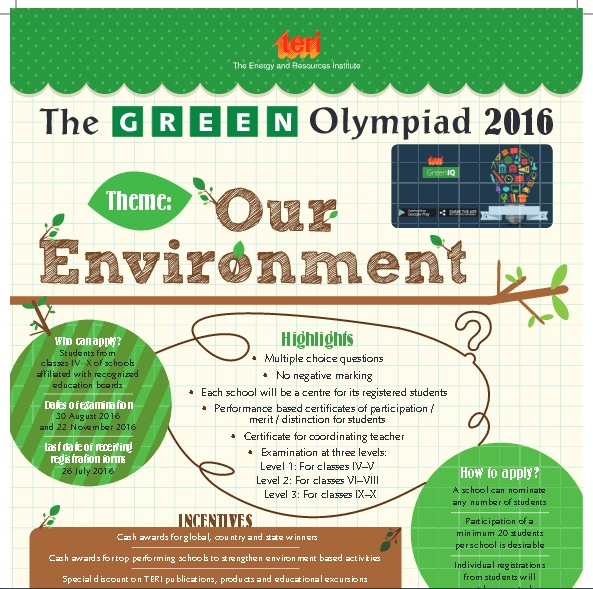 THE CBSE – TERI GREEN OLYMPIAD – 2016