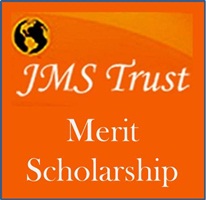 J M Sethia Charitable Trust Merit  Scholarship 2016 Application Process for class 8 and above till post-graduation level. The Scheme is applicable to any individual. He/She should have passed the qualifying examination in the current year (in first attempt) only. Those having passed earlier are not eligible.
Merit Scholarship Scheme Application Form ONLINE
Application Download: http://www.jmstrust.com/pdf-files/Merit-Scholarship-Scheme-Application-Form.pdf
Completed application form should be addressed to
Chief Trustee and sent to JM SETHIA CHARITABLE TRUST, at its Regd. & Head Office at 133, Biplabi Rash Behari Basu road, 3rd Floor No. 15, Kolkata – 700 001,
or
at its Admn. Office at Gandhi House, 5th Floor, 16, Ganesh Chandra Avenue, Kolkata – 700 013,
Phone: +91 33 22360368 / 67,
Email:jms_trust@yahoo.in,
Website: www.jmstrust.com
Date for Submission of Application Form – April to July; Date of Selection of Candidate – August and Date of Disbursement of Scholarship – September OR within the month prior to the next quarter.
J M Sethia Charitable Trust Merit Scholarship 2016