Contest for KIDS, CHILDREN & YOUTH of CHENNAI.
BALAR CHITHIRAI KALAI VIZHA – 2016
Sri Sumukhi Rajasekharan Memorial Foundation presents "BALAR CHITHIRAI KALAI VIZHA" Competitions (14th Year "Mylapore" Festival of Tamizh Tradition & Culture) 2016.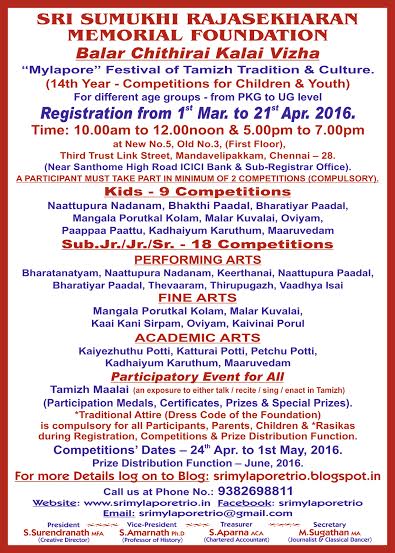 Registration at Foundation Premises
New No.5, Old No.3, (First Floor), Third Trust Link Street,
Mandavelipakkam, Chennai – 600028. (Near Santhome High Road, ICICI Bank).
Contact Mobile No.: 9382698811.
Registrations from 1st March to 21st April, 2016.
Time: 10.00am to 12.00noon & 5.00pm to 7.00pm
A PARTICIPANT MUST TAKE PART IN MINIMUM OF 2 COMPETITIONS (COMPULSORY).
Levels:
Kids Section: – Pre.KG, LKG.
All Levels:-
Sub. Junior: – Sec. A – UKG, I Std. & Sec. B – II, III Std.
Junior: – Sec. A – IV, V Std. & Sec. B – VI, VII Std.
Senior: – Sec. A – VIII, IX, X Std. & Sec. B – XI to UG.
The nature of the Festival is of Two Categories – Competition & Participation.
For details visit: http://www.srimylaporetrio.blogspot.in/
BALAR CHITHIRAI KALAI VIZHA – 2016