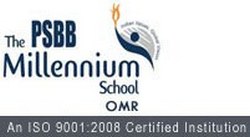 The PSBB Millennium School, OMR Pre KG Admission 2016 – Application will be issued ONLINE only.
ONLINE Registration of Application will start on November 13, 2015 (6:00 PM) and will close on November 16, 2015 (6:00 PM).
Parents have to go through the procedures and make a note of the registration form number and print a copy of the generated form and submit the same in the school office (OMR Campus) on 23rd,24th or 25th November '15 between 8.30am and 11.30am.
Age Criteria : Admissions open for children in the age group of 2 ½ to 3 ½ years (As of 1st June 2016). Children born between 1st December 2012 and 30th November 2013 only are eligible.
CONTACT DETAILS:
The PSBB Millennium School
DLF Garden City, Thazhambur, (off OMR)
Chennai – 600130
Telephone : 044 – 27498691 /044- 27401478 /044-27401380
E-mail: admission.omr@psbbmillenniumschool.org
Website: http://www.psbbmillenniumschool.org/psbbomr/PSBB_OMR/Admission_Information.aspx
The PSBB Millennium School, OMR Pre KG Admission 2016