Oi Gala Kids Fest Event at Oi Playschool Manikonda.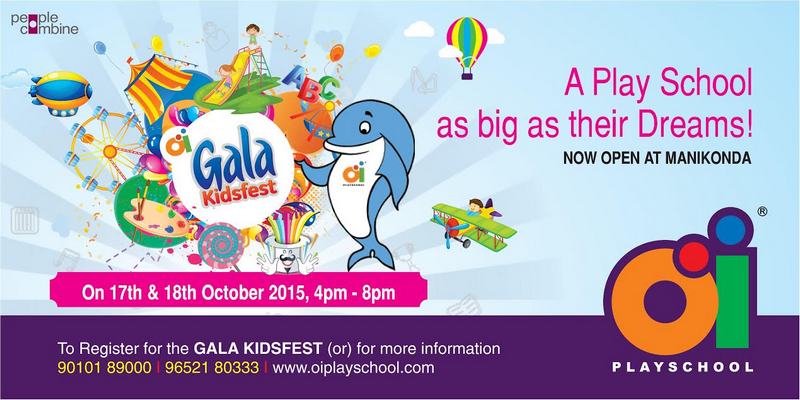 Event Name::: Oi Gala Kidsfest
Organiser name::: Oi Playschool
Event Venue::: Oi Playschool Manikonda
Event Date & Time::: 17 th & 18th oct'2015, 4 PM to 8 PM
Age limit to enter::: Below 5 years old
Event Description:::: A Play school as big as their Dreams ! Now Open At Manikonda. Hyderabad's largets playschool is here.on the occassion of launch of our new facility in Manikonda, we invite you to the Oi Gala KidsFest.
Let your child take part in a variety of fun games,dance,craft making and learning activities at the Fest.
Event activities:::The event has a lot to offer to your children. The attractions are as follows:
– Tattoo
– Carricature
– Art & Crafts
– Clay modelling
– Photo Booth
– Fun Games
– Fishing
– Gold digging
– Chocolate making
– Magic Show
– Kids Zumba Dance
– Cartoon Characters
– Yummy Food Stalls
There are free goodie bags available with registrations.
Simply call 90101 89000 and register for this event.
Visit website http://www.oiplayschool.com for more details.
Registration open for kids below 5 years.
Entry is subject to prior registration only.
Oi Gala Kids Fest at Manikonda