NAVARATHIRI FEST COMPETITION BY TMS YOGA & ART'S CENTER ON OCT'17th @ Madipakkam.
Yoga,slokas, fancy dress, classical singing, classical & semi – classical dance competition on 17 October 2015 @ Madipakkam Jaya Jaya Sankara Saraswathy Mahal ( near Madipakkam bus stand). 12 October 2015 is the last date for registration. No spot admission.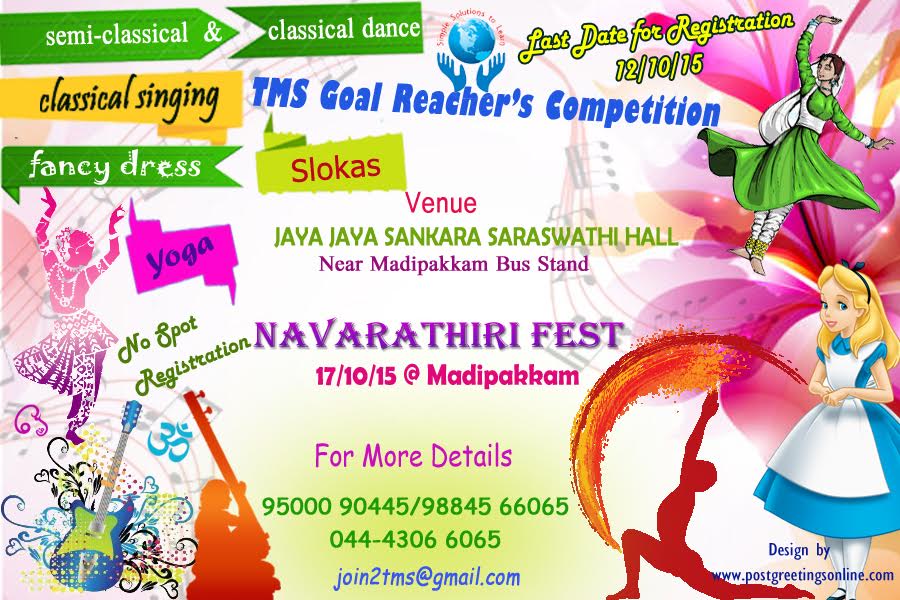 TMS YOGA & ART'S CENTER KEELKATTALAI & VELACHERY always conduct competition once in a 3 months.
FOR MORE DETAILS:
MURUGESAN – 9884566065,
SHANMUGI – 9500090445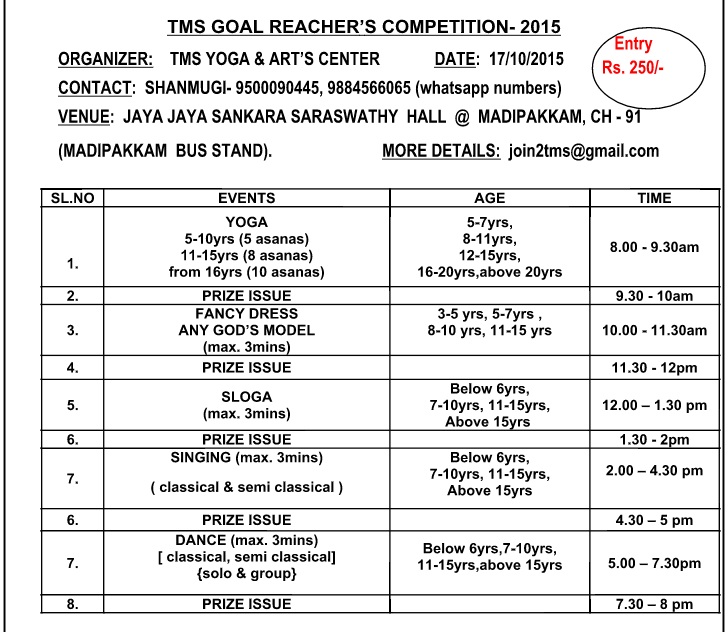 GENERAL RULES & REGULATIONS:- ( must read ):
1. Participants must show any age identification proof, if organizer doubts during a participation.
2. A group can have maximum 6 members only.
3. Participants should bring their own materials, related to all events.
4. For singing, participants can sing with or without sruthi box & karaoke.
5. For Dance,song must be in pen drive to save time and avoid the problem. Please keep extra copy .
6. Drug or alcoholic beverage must not be used and smoking prohibited for participants & parents before/during the events.
7. All participants will be awarded with certificates & medals. 1st, 2nd, 3rd from each category will be awarded with medals and certificates.
8. Judge's/Organizer's decision is final.
9. The allotted time for every event may vary more or less depending upon any reasons.
10. No arguments, disturbance & quarrel by participants are entertained and all participants are abided by our all rules and regulations.
LAST DATE : 12.10.2015
For location of  venue please see the following link :
https://www.google.co.in/maps/place/Jaya+Jaya+Sankar+Saraswathi+Hall/@12.9610409,80.1997345,17.5z/data=!4m2!3m1!1s0x0:0xe5f8f717fa47ff5b
Navarathiri Fest Competition by TMS Yoga & Art's Centre at Madipakkam