Swarasannithi ( Music school) and Chitrakoot ( Adobe of art ) is conducting Sloka and colouring Competition for kids and Ladies on 20th september 2015 in RKM Saradha vidhyalaya Mat. High. Sec. school.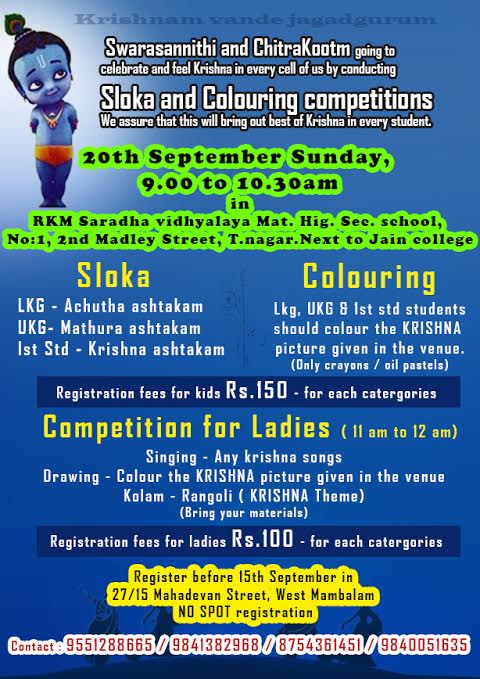 Krishnam Vande Jagadgurum
Life is essentially an Art. Krishna can be enjoyed, felt, rejoiced in every form of Fine Art.
Swarasannithi and ChitraKootM going to celebrate and feel KRISHNA in every cell of us by conducting SLOKA and COLOURING competitions for children.
Date : 20th September Sunday, 9.00 to 10.30 am
Venue: RKM Saradha vidhyalaya Mat. Hig. Sec. school, No:1, 2nd
Madley Street, T.nagar. (Next to Jain college)
Sloka competition details
Who to participate: Lkg, UKG and 1st std
Achutha ashtakam for LKG / Mathura ashtakam for UKG/
Krishna ashtakam for 1st std
——————————————————-
Colouring competition details
Who to participate: Lkg, UKG and 1st std
Color the krishna drawing given in the venue
(Bring only oil pastels , crayons and color pencil, Writing pad. No WATER COLORS)
Registration Fees : Rs 150( for each categories )
Register before 15th September at 27/15, Mahadevan street, West Mambalam.
NO SPOT REGISTRATION
Result will be announced by 12.30 pm in the competition venue
——————————————————-
Competition for ladies details
Time: 11 am to 12 am
Singing – Any KRISHNA songs
Colouring – Colour the KRISHNA picture given in the venue
Kolam – Rangloi (KRISHNA Theme)
Registration Fees : Rs 100( for each categories )
Register before 15th September in 27/15, Mahadevan street, West Mambalam.
NO SPOT REGISTRATION
CONTACT : 9551288665 / 9841382968 / 8754361451 /9840051635
SARVAM KRISHNA MAYAM
Chitrakoot Art Competition for Kids and Ladies