TAMILNADU YOGA FESTIVAL and YOGA AWARD CEREMONY-2015 Organized by GLOBAL ACHIEVERS FOUNDATION.
EVENTS: YOGA,DRAWING,FANCY DRESS,SLOKA,ESSAY WRITING & ORATORY
BHARATHA YOGI AWARD-2015 FOR WINNERS*,ASSURED PRIZES & CERTIFICATE FOR ALL.YOGA AWARD FOR YOGIS.
EVENT DATE: 06/09/15 NO AGE LIMIT
TIME: 7 AM- 9 PM
Venue: THIRUVALLESHWARAR MAHAAL, PADI,CHENNAI-600050.(NEAR THIRUVALLESHWARAR SIVAN TEMPLE)
REGISTRATION FEE:RS.200/Event
Website: www.globalachieversfoundation.org
E-mail:mail2globalachievers@gmail.com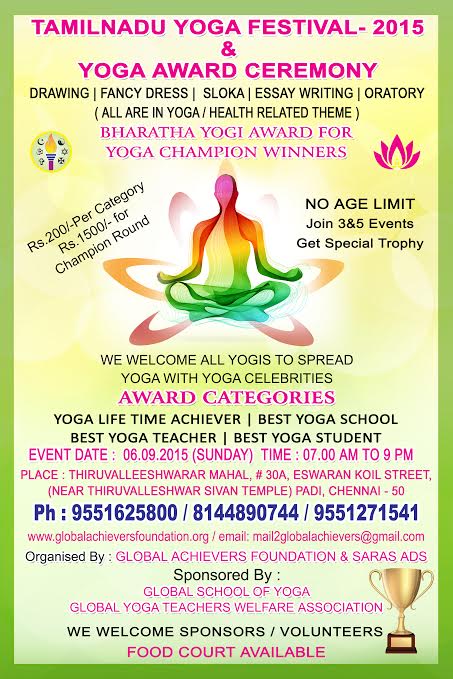 Please click for Detailed Rules & Regulations, Registration and payment details, Award Details are available.
TAMILNADU YOGA FESTIVAL & YOGA AWARD CEREMONY-2015