Star Creative Art, Mumbai conducts International Child Art Competition 2015.
The last date for Entries is 31st August 2015.
Each Institution or a group of students should send minimum of 50 entries. Individual participants should send a minimum of 5 entries. Entries can be of any subject or theme.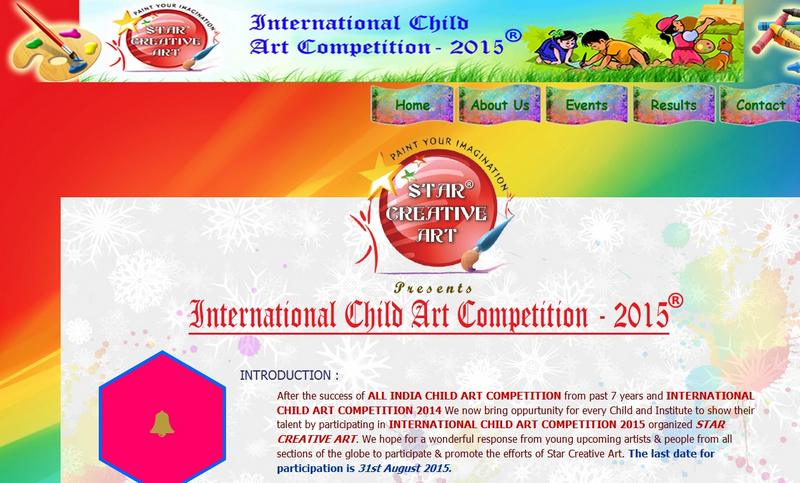 Results & Exhibition of award winning entries will be displayed on the website www.starcreativeart.org latest by 30th November 2015.
AGE GROUP :
Group A – Upto 1st standard (Age upto 6 Years)
Group B – 2nd to 4th standard (Age 6 + to 9Years)
Group C – 5th to 8th standard (Age 9+ to 13 Years)
Group D – 9th to 12th standard (Age up to13+ to 18 Years)
CATEGORIES :
DRAWING – Any theme like Scenary, Festivals, Market, Animals, Abstract,Still life, Village Scene,etc.
CARTOON – Dragon BallZ, Disney characters, Tom & Jerry etc.
GREETING – Festivals, Occasions, Best Wishes, Birthday, New Year etc.
CANVAS PAINTING – Any Theme on Canvas Board / Sheet / Stretched Canvas Board
THEME BASED PAINTINGS – Indian Season Eg..Monsoon / Winter (Patjhad) etc. (Kindly mention the category while submitting the painting)
SIZE OF ART WORK :
(Drawing/ Cartoon/ Greeting/ Canvas Painting)
Size of Drawing / Cartoon should not be more then 17 inch x 14 inch
Size of Greeting should not be more then 10 inch x 14 inch
Size of Canvas Painting & Theme Painting – 18 x 16 inch Or more.
ENTRY FEE :
For Schools & Institution (within India) Rs. 80 per entry
For Schools & Institution (Outside India) US$ 3 per entry
For Individual Participant Rs 120 Per Entry (within India)
Entry Form : http://www.starcreativeart.org/downloads/child_art_competition_2015_entry_form.pdf
Entries are to be sent at the following address given below by Regd. Post,Speed Post, Courier, or by Hand.
Madhuri Rungta
Star Creative Art®
A/10, Silver Valley-2, Shivaji Nagar, Vakola Bridge, Santacruz (E), Mumbai – 400 055.
Phone : 022 – 26680694, 9892706846, 9594433355
Email – info@starcreativeart.org , starcreativeart@gmail.com , madhuri@starcreativeart.org
Star Creative Art International Child Art Competition 2015