Oviya's Arts and Crafts & Varna Fashions Competitions for 2015.
Date: 27-Sep-2015
Venue:
RKM Saradha Vidhyalaya MHSS, Muthurangam Rd,
(Behind T Nagar Bus Stand),
Asoka Nagar, T.Nagar, Chennai 600 017
Tamil Nadu
TIME: 9:00 AM – 2:00 PM
Regn Fee: Rs. 100/- per participant per event
1) COMPETITIONS:
Drawing (Time: 09:30 AM – 10:30 AM)
Handwriting (English Time: 11:00 AM – 11:15
(Tamil Time: 11:20 AM – 11:35 AM)
Craft
Kolam
Reporting Time:
Drawing: 08:45 AM
Handwriting, Craft, Kolam : 10:30 AM
2) DRAWING EXHIBITION
3) STALLS ON DISPLAY: Chudidhars, Sarees, Jute Items, Return Gifts, Tupperware etc
Batches for Drawing & Handwriting:



Craft: Any item out of cloth
Kolam : Any RANGOLI Design drawn and colored on an A4 sheet.
Both Craft and Kolam can be done at home and submitted on the competition venue. – OPEN TO ALL AGES.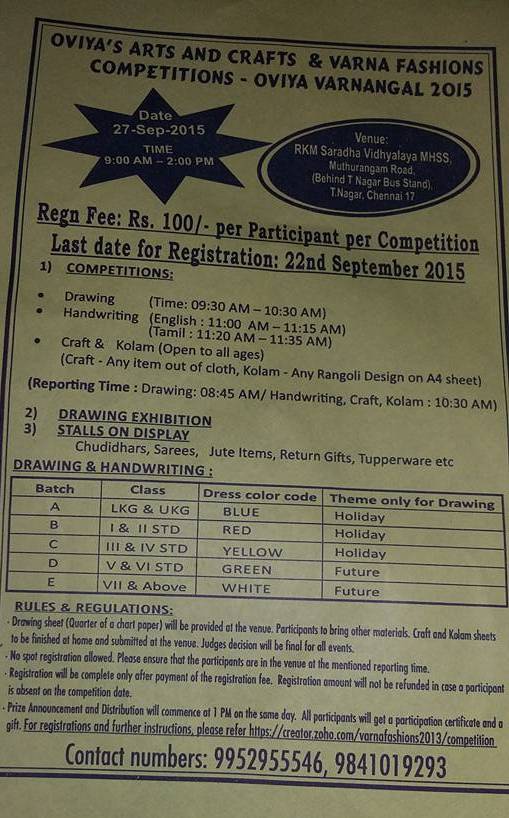 RULES & REGULATIONS:
• Judges decision will be final for all events.
• No spot registration allowed. Please ensure that the participants are in the venue at the mentioned reporting time.
• Prize Announcement and Distribution will commence at 1 PM on the same day .
• All participants will get a participation certificate and a gift.
• Registration will be complete only after payment of the registration fee.
• Registration amount will not be refunded in case a participant is absent on the competition date.
For registrations and further instructions, please refer https://creator.zoho.com/varnafashions2013/competition
Contact numbers: 9952955546, 9841019293
Oviya's Arts and Crafts & Varna Fashions Competitions for 2015