Rangotsav Sanstha National Level Colouring & Handwriting Competition 2015. Participation Through Schools Only.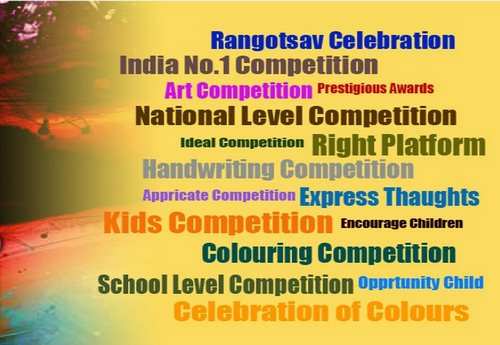 Groups for the Colouring competition:
Primary I : (KG, Std I & II)
Primary II : (Std III & IV)
Secondary I : ( Std V to VII)
Secondary II : (Std VIII to X)
The picture for painting is enclosed, students can use any colour medium for painting.
For Pictures for Colouring and participation forms for schools : http://rangotsavcelebration.com/download/art_fest-2015.zip
ENTRY FEES – RS. 25/- PER STUDENT
Find the Art Contest Brochure
Handwriting Competition
Students should write para/poem on the subsequent blank space provided on the page.
The groups for the handwriting competition are given below:
Primary I : (KG, Std I & II)
Primary II : (Std III & IV)
Secondary I : ( Std V to VII)
Secondary II : (Std VIII to X)
Participant students should fill up all the details on the provided page.
ENTRY FEES – RS. 25/- PER STUDENT
Entries Deadline : 10 September 2015
For all Details of the contests and rules and regulations, visit : http://rangotsavcelebration.com/Event.aspx
National Level Colouring & Handwriting Competition 2015 by Rangotsav Sanstha