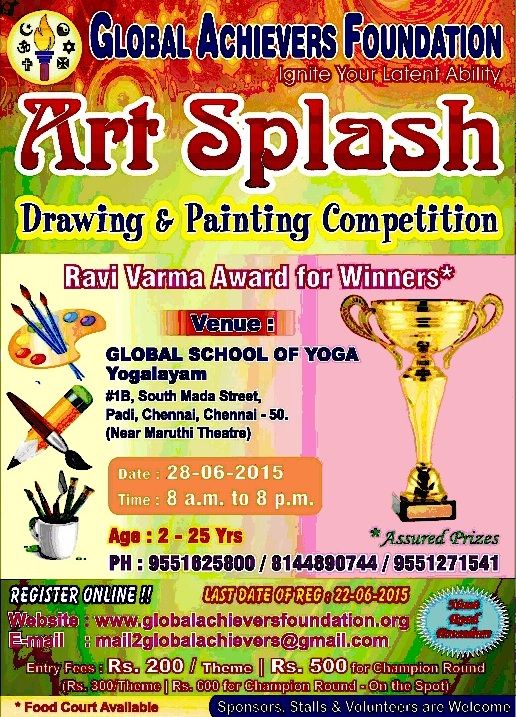 Art Splash 2015 – Drawing & Painting Competition. Global Achievers foundation organizes state level drawing & painting competition to raise fund to help the poor students and do many social services in the society.
THEMES:Common,Children,Festival,Animal,Religion,  School, Famous Place(Pencil shading), Water Painting- Social awareness, Oil Painting-  Nature
ASSURED PRIZES & CERTIFICATE FOR ALL
RAVI VARMA AWARD FOR WINNERS*
REGISTER ONLINE!
AGE: 2-25 YRS., TIME: 8 AM-8 PM
EVENT DATE: 28/06/2015   
LAST DATE FOR REGISTRATION: 22/06/2015
REG.FEE: RS.200/Theme & Rs.500 for champion round
(Rs.300/Theme & Rs.600 for champion round on the spot)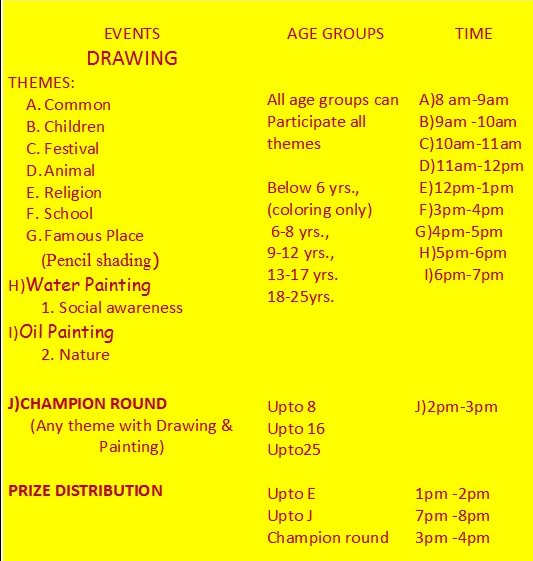 VENUE:
GLOBAL SCHOOL OF YOGA,YOGALAYAM,NO:1B,SOUTH MADA STREET, PADI,CHENNAI-50. (NEAR MARUTI THEATRE)
Contact Information:
GLOBAL ACHIEVERS FOUNDATION,PADI,CHENNAI-50
CELL: 9551625800 / 8144890744
E-MAIL: mail2globalachievers@gmail.com
WEBSITE: www.globalachieversfoundation.org
FACEBOOK: facebook/globalachieversfoundation
For all details regarding Payment, rules and regulations visit Organizers Website
Art Splash 2015 – Drawing & Painting Competition