Brain e kids- an innovative playschool proposes its one of a kind summer camp, a 3 hour camp for 14 days. That's it?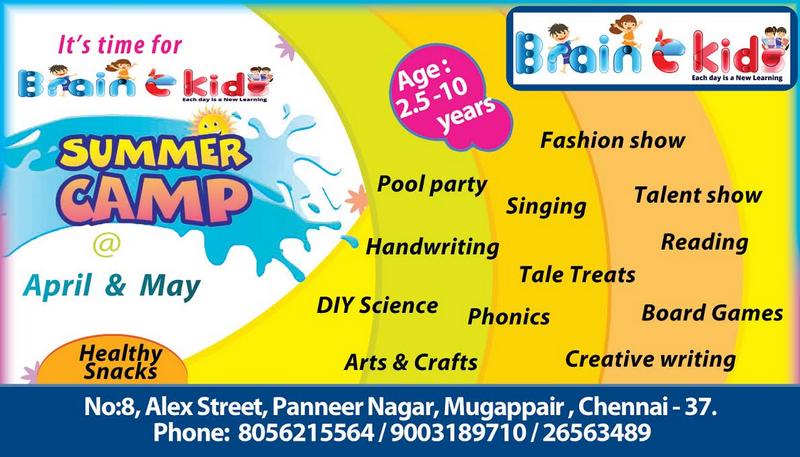 We shall cover activities like – Phonetics, Handwriting, Basics of Cursive writing , Story time using Talking Pen , Arts and crafts, Spell Bee, Puzzles, Brain teasers, Movie time , Simple scientific experiments, Indoor games , Outdoor games , Exciting Board Games , Water splash time, Field Trip. We also provide healthy morning snacks. The camp will come to a ceremonious end with a Fashion show , Talent show and Prize distribution on May 19th. Be there to enjoy the memorable experience.
AGE – 2.5 to 8 Years. TIME: 10 am to 1 pm.
DAYS: May 4 to May 19.
VENUE – Brain e Kids ,No 8 , Alex Street, Mogappair East. For more details contact us at 26563489 / 8056215564.
Registration can be done by SMS to 8056215564 or Whatsapp to 9791105276. While registering mention child's name and age.
Day care also available on hourly or full day basis.
Brain e kids Summer camp 2015